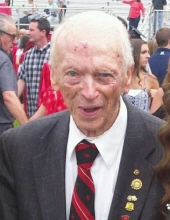 Obituary for David A. Johnson
David Alvah Johnson, of Bloomfield, died in Delray Beach, FL, on Feb, 13th. He was 91.

Born in East Orange, Mr. Johnson was raised on Kearny and moved to Bloomfield in 1953.He was a graduate of Kearny High School Class and Rutgers University, with a B.S. in Agriculture. David was a World War II veteran and served in Europe with the First Armored Division in the 14th Armored Infantry Battalion which later became the 14th Constabulary Squadron. A Past Commander and member of Miles Suarez Post 711, Veterans of Foreign Wars, he also served as a Trustee and Post Historian, Armored Division Association and the United States Constabulary Association and attended many of the national and regional reunions.. In 2014 he was honored to serve as Grand Marshal in Bloomfield's Memorial Day Parade membet of the First

He was an active member of Trinity Church in Kearny until he moved to Bloomfield,
where he attended Church of the Advent. There he served as Junior Warden and as an Acolyte until the Church closed in Oct. 1998. He then became an active parishioner at Christ Episcopal Church, Bloomfield/Glen Ridge, where he served for many years as Acolyte. He served as Deputy to several of the Diocese of Newark Annual Conventions.
In June 2002, he and his wife, Dorothy Eadie Johnson, were honored by the Episcopal Diocese of Newark and received the David Paul Hegg II Lifetime Achievement Award for contributions to the Episcopal Church and his community.

He was a member and Past Worshipful Master of Bloomfield Lodge #40, Free and Accepted Masons, (now Essex Lodge # 7). He was also a member of the Scottish Rite, Valley of Northern New Jersey and Nutley Chapter #121, O.E.S. David was a member of: Historical Society of Bloomfield, Central Jersey Deltiological Society and a former member of the Advisory Board of Friendship Chapter, Order of DeMolay and the Civil Wars Round Table. Earlier, he volunteered as an Auxiliary Police in Bloomfield and served for 6 years on the Bloomfield Board of Health. He was a member Bloomfield Safety Council, Friends of the Library, Metropolitan Association for Food Protection and Berkeley Shores Homeowners Civic Association. He was a Committee member of Bloomfield Scout Troop #6 and, formerly, served as Health and Safety Officer, Tamarack Council, Boy Scouts of America. In addition to his participation in the community, he enjoyed gardening, travel, collecting stamps, and researching family history. He loved history, and collected, and read many books on World War II.
Before retiring in 1991, he was a Principal Sanitarian for the New Jersey Department of Health, in the Division of Consumer Health Services and was a FDA State Rating Officer. Earlier in his career he was a Quality Control Supervisor in Consumer's Dairy, Union City, and Sealtest Foods
Newark, Divisions of National Dairy Products Corp.



Surviving are his beloved wife, Dorothy Eadie Johnson, married 64 years in May 2017); his loving children, Douglas Alan Johnson and wife Lisa, Daniel Albert Johnson and his daughter-in-law, Debra, wife of Donald Andrew Johnson (recently deceased); his cherished grandchildren Trevor Douglas Johnson, Cassidy Taylor Johnson and Austin Trace Johnson, Michele Astone, Melissa Caporale, Jennifer Riggs, and eight great grandchildren, his niece Patricia Kern Ludwig and nephew, William J. Kern and niece
Donna Rumelhart. He was the loving son of Mary Hazen Higinbotham, and Eugene Crowell Johnson. His sister, Ruth Alma Poczik, predeceased him this year on Feb, 12th.

Visitation will be on Monday Feb, 19th from 4:00 PM– 8:00PM at O'Boyle Funeral Home, 309 Broad St, Bloomfield. Friends and relatives are invited to attend the funeral services which will be held on Tues., Feb 20th, 10:00am at Christ Episcopal Church, Bloomfield/Glen Ridge, corner of Bloomfield Avenue, and Park Avenue, followed by internment at Glendale Cemetery, Bloomfield. Miles Suarez Post 711, V.F.W., the Masonic Lodge, and the Eastern Star, will also conduct services on Mon, evening at the funeral home.

In addition to flowers, Memorial contributions may be made to Christ Church,74 Park Avenue, Glen Ridge, NJ 07028 or to the Veterans of Foreign Wars, at 536 Broughton Ave., Bloomfield, NJ 07003.
Previous Events
Visitation
O'Boyle Funeral Home
309 Broad Street
Bloomfield, NJ 07003
Service
Christ Episcopal Church of Bloomfield-Glen Ridge
74 Park St.
Glen Ridge, NJ
Cemetery Details
Location
Glendale Cemetery
28 Hoover Avenue
Bloomfield, NJ 07003