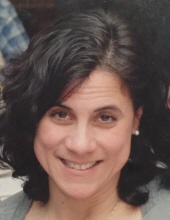 Obituary for Gerise "Geri" Carter
Gerise Marie (Smith) Carter, beloved wife, devoted mother, loving sister, adored daughter and loyal friend, passed into eternal life and away from her unbearable pain Monday March 5 at the age of 53.

A Bloomfield resident, she was a critical-care pediatric nurse for 30 years at The Valley Hospital in Ridgewood. Gerise's exceptional work was recognized in 2017 when she was named as a March of Dimes Nurse of the Year finalist in the field of pediatrics. She was also a recipient of The Daisy Award, a prestigious honor given only to "extraordinary" nurses, according to the Daisy Foundation's web site.

Born in Camden and raised by the late Alfred and Marie Smith in Willingboro, Gerise was one of seven children. According to her oldest brother, she was a middle child who quietly sat back and observed the chaos of a large family.

She graduated from Holy Cross High School in South Jersey in 1982, where she was a member of the swim team, a passion that remained with her throughout her life. Gerise truly blossomed at the College of New Jersey in Ewing, where she earned her nursing degree as a 1986 graduate.

Shortly after graduation, Gerise met her husband Mike on a blind date – "I looked across the room and asked my friend who that girl was," Mike said -- and the two were married in 1992. Gerise and Mike settled in Bloomfield, where they started an amazing family of five children with the 1995 birth of their son Michael. Kelly, Daniel, Brian and Megan would follow.
Thanks to Gerise's love of animals, the Carter household was filled with an overflow of living organisms from turtles and hamsters to rabbits and dogs, including the current canine trio of Lacy, Roxie and Scarlet.

"She would always send us photos of the dogs doing something weird," said son Brian, whose recent 18th birthday cake was a victim of Scarlet's unstoppable appetite.
Gerise loved the beach, shopping for something and coming home with nothing and cooking for her family and friends, especially on Thanksgiving after the traditional Bloomfield-Montclair football game.

Daughter Kelly was the first to learn two years ago that a family shore house had been purchased in Ship Bottom in memory of Gerise's father Al.
"She told me I was going to have to sit down for this one," Kelly said. "She was so excited and I was too."

Gerise's children were the sunshine of her life.
"She was a hard-working and loving mother," said son Michael, a former captain of the Rutgers University baseball team. "She always put her kids first and herself last and she was always there for us. She was my number one fan and always told me to kick butt before every football game".

Danny, a football and baseball star at Bloomfield who is now playing baseball at William Paterson, said his mother would always tell him to "Play like Jeter."
Megan, the youngest of the Carter clan, said her mother loved visiting her family in South Jersey and dancing to Donna Summer.

"She loved the song On the Radio," said Megan, a Bloomfield softball player. "My mom was always the one who could calm me down and tell me it was OK to always be myself when I was playing sports."

Kelly summed up her mother best: "She was blunt and feisty and I loved it."
In addition to her husband and children, Gerise is survived by her mother-in-law Patricia Carter, her siblings Alfred, Geralyn, Francine, Stephen, Gerard and Kenneth, and many nieces, nephews and cousins. In addition to her mother and father Al and Marie, she was preceded in death by her father-in-law Robert Carter.

In lieu of flowers, donations can be made online to Shriners Hospitals for Children.
Previous Events
Visitation
O'Boyle Funeral Home
309 Broad Street
Bloomfield, NJ 07003
Service
Sacred Heart Church
76 Broad Street
Bloomfield, NJ 07003