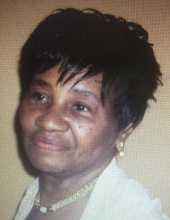 Obituary for Florentine (Zelma) Urich
Florentine "Zelma" Urich passed away on Thursday, March 15, 2018, the day after her 74th birthday. After a long, debilitating illness, she died peacefully at home in Binghamton, New York surrounded by her family.

Zelma was born in Couva, Trinidad on March 14, 1944. She was the oldest of the many grandchildren of her beloved grandparents, the late Clifford and Adelsia Padmore. As the oldest grandchild in a very large family, she enjoyed an esteemed position where her opinions and presence were valued. She also took her responsibility to her family very seriously. Over the years, Zelma sacrificed to send money, clothing and anything else that was asked of her back "Home" to Trinidad. Also, it was widely known that the doors to her home were always open to anyone who needed a place to stay or a wonderful meal.

Her cousin, Denise Scott, wrote a FaceBook post that lovingly and thoughtfully describes who Zelma was and how she should be remembered. Denise wrote, in part: "[w]hen I was a child … ok, even when I was an adult, I always knew I had my own fairy God mother, someone who made my wishes come true and provided for my needs …. If I needed anything I just needed to let Zelma know …. I don't want to say Rest In Peace, I want to say ... 'when you get to heaven, make sure you take over the place and show them how to do it! Show them how to cook, how to sew, how to have fun and how to truly care! …. Be the master angel in heaven, like you were to us on Earth! And when you get your wings come back and take care of me again! I love you!'"

Zelma moved to the United States almost 50 years ago. She raised her family in Brooklyn, NY, and, upon retirement, relocated to Binghamton, NY. Zelma trained as a seamstress in Trinidad. For most of her life, she used those skills to provide for her family by working in factories and by making garments for weddings and other special occasions. In approximately 1995, she returned to school and earned a degree as a Nurse's Assistant. Until she retired, she enjoyed her work providing loving, compassionate care to elderly patients in their homes at the end of their lives. In recent years, Zelma's deteriorating health required her to need the same round-the-clock care that she formerly provided to her clients. Without hesitation, her youngest daughter, Sabrina, welcomed Zelma into her home and devoted herself to her mother's care.

Zelma was an extraordinary cook. She could make magic in the kitchen. She enjoyed entertaining, and she was her most fulfilled when her home was full of family or when she was at a gathering of loved ones. She had strong opinions and rarely hesitated to let family and friends know how she felt about their choices. Zelma loved fiercely, and no one ever took offense (for long) to her strong opinions and presence. It was always understood that Zelma would step in front of a train for anyone that she claimed as her own, and that list of people was huge. Zelma also loved music, singing and travel (even if it was just a trip to the beach, Brooklyn Botanical Gardens or a park for a weekend picnic with her kids, nieces and nephews).
Zelma was the wife of Alston Urich for 47 years; eldest daughter of Veronica Roselyn Padmore Sealy (who preceded her in death); devoted mother of Lisa Gibson, Dawn Urich-Tapia (and her husband Edwin), and Sabrina Urich (and her fiancé Dominic); beloved sister of Ermie "Lorna" Gibson Marshall; and doting grandmother to Brandon Gibson (22), Jonathan Gibson (18), Luis Trinidad (9) and Logan Tapia (2).
Previous Events
Visitation
O'Boyle Funeral Home
309 Broad Street
Bloomfield, NJ 07003
Service
Sacred Heart Church
76 Broad Street
Bloomfield, NJ 07003
Cemetery Details
Location
Glendale Cemetery
28 Hoover Avenue
Bloomfield, NJ 07003