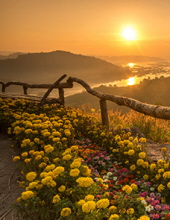 Obituary for Darryl W. Stanfield
Darryl Stanfield passed away on Monday, July 9, 2018 at the age of 66, while vacationing in Shawnee Village Resort, PA.

Darryl was born and raised in Nutley NJ on May 8th 1952, the 2nd born of four children.

Before he even reached his teens he began a life long infatuation with several international cultures, primarily those of China, Japan and Egypt. At the age of 11 or so his parents were shocked when he received a package covered with postage stamps from India, containing free incense samples.

He grew on to express a natural talent for the care and nurture of exotic tropical fish, palm plants & household pets. He became able to keep the fish & palms alive & well, while most experts that he contacted advised against even trying to maintain them in this part of the country.

His highest admiration was for God, creator of all these things that Darryl so loved. Of all things earthly, Darryl completely feel in love with the beauty & art of celebratory fireworks displays. In his early teens he contacted The American Pyrotechnic Guild with the hopes of joining & learning all he could. For the past several decades he has considered it a greatly valued honor and privilege to have kept an ongoing mutual admiration and friendship with Nunzio Santore, co-owner of Garden State Fireworks (est.1890), competition World Champions in the art.

This love for decoration of the sky with light led on to a passion for decoration of the inside and outside of the house with lights & festive figures for Christmas and Halloween. Making everyone feel, as he liked to say "like a kid again, kid again".

Though Darryl was challenged throughout life by various health challenges, his high spirited enthusiasm always won out. He once said "when things get tough, that's when my super second soul sets in" Mostly everyone, even those who only briefly met him were touched by one or more gifts of his beautiful personality: his intelligence, a sense of humor and sharp wit, his compassion for others & all living things, his desire to give more than he often could, his loyal friendliness & ability to forgive others - and perhaps best of all, his capacity to keep a child-like enthusiasm for the value of life, right in the face of an all to often... less than loving world.

His aunt in Canada wrote: "I loved that he burst into song frequently. He had a very good voice. The song I remember most is "Some people say the world has had enough of silly love songs". It's been a favourite of mine ever since."

Yes indeed, though with many cherished memories, he will be missed.

For those who wish, in lieu of flowers, donations may be made to the family.
Previous Events
Visitation
O'Boyle Funeral Home
309 Broad Street
Bloomfield, NJ 07003
Service
O'Boyle Funeral Home
309 Broad Street
Bloomfield, NJ 07003
Cemetery Details
Location
Holy Cross Cemetery
340 Ridge Road
North Arlington, NJ 07031